May 08, 2023
ICYMI: Arrington- Americans Making Tough Financial Decisions That Dems Can't
Today, House Budget Committee Chairman Jodey Arrington (R-TX) joined Squawk Box on CNBC to discuss the House Republicans' plan to responsibly lift the debt ceiling and implement practical spending reforms to reduce our nation's debt and grow our economy.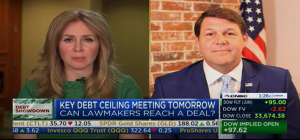 Click here to watch Arrington's full interview.
Chairman Arrington on the precedent of raising the debt ceiling with spending reforms:  "So, you know we're just asking President Biden and the Democrats to do what's been done in the past, quite frankly, President Biden has led negotiations in debt ceiling legislation, where they considered spending controls and fiscal reforms. And it's that straightforward. The two are not mutually exclusive. This is not unprecedented. We just have to be responsible. Consider our economic condition, consider the amassing debt that we're going to put on the next generation of Americans and start to rein it in responsibly." Chairman Arrington on Democrats needing to step up and act responsibly: "We have a good list. I I think it's very straightforward. Able-bodied adults who receive public assistance ought to work. I mean, we should not continue the barrage of regulatory assault on American energy. We can't get out of the recession that we're heading for, if we don't have pro-work, pro-growth, pro-energy policies. They can counter, but they have to now step up and act like responsible leaders, we've done that. And we have set that example." Chairman Arrington on the American people making tough financial decisions while Democrats can't: "We have placed in their hands a list of of proposals that we have gotten consensus on, it's their time to respond, and the American people expect him to because the American people have had to tighten their belts and change their spending habits, because of the spending primarily, that has driven the inflation that these folks are suffering with."