January 10, 2022
ICYMI: Smith, Rodgers, Brady Slam Biden Administration Over Diverting Billions in Federal Funds from COVID-19 Testing, National Stockpile, Amid Reports Administration Plans to Request Additional Funds
House Budget Committee Republican Leader Jason Smith (MO-08), House Energy and Commerce Committee Republican Leader Cathy McMorris Rodgers (WA-05), and House Ways and Means Committee Republican Leader Kevin Brady (TX-08) slammed the Biden Administration for massive waste, diverting funding, and a failure to provide any accounting for how trillions in taxpayer dollars appropriated to supposedly combat COVID-19 have been spent – all while new reports indicate that the Administration intends to request tens of billions more in additional COVID relief.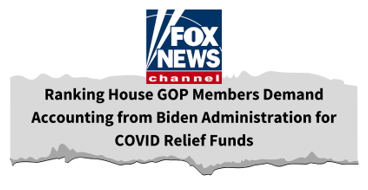 Last week the United States reached its highest daily COVID-19 case count since the start of the pandemic, with over one million cases in a single day. Meanwhile, reports indicate the Biden Administration rerouted billions in federal funds earlier this year that were meant for expanding COVID-19 testing and the Strategic National Stockpile in order to deal with the Administration's border crisis. In the midst of the pandemic, the Biden Administration reportedly diverted $2 billion to illegal immigrants at the southern border:
$850 million for COVID-19 testing capabilities.
$850 million meant to replenish the Strategic National Stockpile.
$151 million for "Supply Chain for Vaccines, Therapeutics, and Medical Supplies".
The Biden Administration has also repeatedly ignored multiple oversight requests from Congress about how, when, and where funds from its original $2 trillion so-called "COVID-relief" bill have been spent. Less than 9% of President Biden's Bailout bill from March went to combating the virus, while at the same time dozens of reports have surfaced showing extreme examples of abuse and misuse of COVID-19 funding, including:
Luxury apartments in Norwich, CT.
Stimulus checks for convicted prisoners in Michigan.
$2 million for trees in Syracuse, NY.
$4 million for parking lots and bathrooms at a SC beach.
$16.8 million for a FL golf course, driving range, and clubhouse.
$1,400 stimulus checks to Japanese citizens living in Japan and the Boston Marathon Bomber.
Read the press release on the House Republican Ranking Members' letter to President Biden. Read the full letter. Fox News: Ranking House GOP members demand accounting from Biden admin for COVID relief funds
###